17th Edition of "Green Power Conference & Exposition" started on 04 Dec, 2018 at ITC Grand Chola
Renewable Energy is making rapid strides all over the world. India is also witnessing an exponential growth in renewable energy and is expected to meet the Government of India's target of 175 GW by 2022.
Confederation of Indian Industries, Godrej Green Business Centre organised the 17th Edition of "Green Power Conference & Exposition" on 04 & 05 Dec, 2018 at ITC Grand Chola, Chennai to promote policy & finance facilitation and business excellence in this sector.
The objectives of the Conference were Industry – Government interactions & Policy facilitation, RE integration in Indian Industry & innovation in Renewable Energy technologies, Finance facilitation for Renewable Energy projects, Net working with senior government officials & business leaders from diverse groups, Understanding the latest trends in policy & regulation and Exposure to best practices & case studies l Interaction with banks & financial institutions
The conference was attended by over 400 delegates. Eminent National & International speakers from all sectors of the Industry elaborated on various aspects of renewable energy.
An Exposition on latest innovative technologies in Renewable Energy was also organised.
On the sidelines of the conference Performance Excellence Awards for Solar and Wind Plants were also awarded.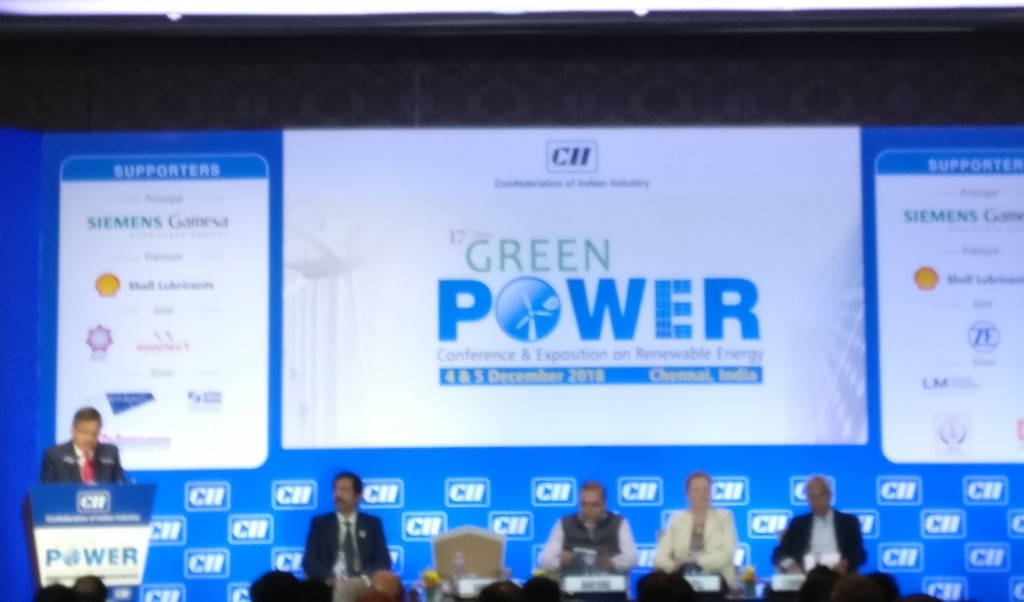 Mr. Ramesh Kymal, Chairman, RE Council, Confederation of Indian Industries, Godrej Green Business Centre and CMD, Siemens Gamesa Renewable Power Limited welcomed the delegates and elaborated the situation in the Renewable energy area. He expressed various hurdles and problems, RE industry is facing. The installations are not coming as committed. The difference between committed v/s actual is very high. Though the bidding has taken place for about 10000 MW, the pace of installation is not good due to various problems being faced by the industry.
Mr. Anand Kumar, IAS, Secretary, Ministry of anew and Renewable Energy, Government of India detailed about the commitment of the Ministry to achieve the 175 GW of RE target by 2022.
In the next session : Policy and Regulation- Smart Planning to Effective Implementation various speakers also spoke about the low tariff and the caps Government is putting on the bidding besides other matters. Land acquisition problems were the one of the focus areas.
Green Power Market Development Initiative of CII and WRI (GPMDG) – session was about the scaling up the market of Renewable Energy.
Afternoon session on –Making the India's Grid Green, Smart and Resilient was full of the technical upgradation, Smart Grid, Green Energy Corridor discussions.
The last session on Solar Quality Assessment and Efficiency market saw the deliberations on quality of imported Solar PV Modules and Cells and best Practices in Installations of Solar PV Plants.
The Conference and Exposition will also continue on 5th December 2018.
————-
————-